Japanese Mini Truck Vs. Chinese Mini Truck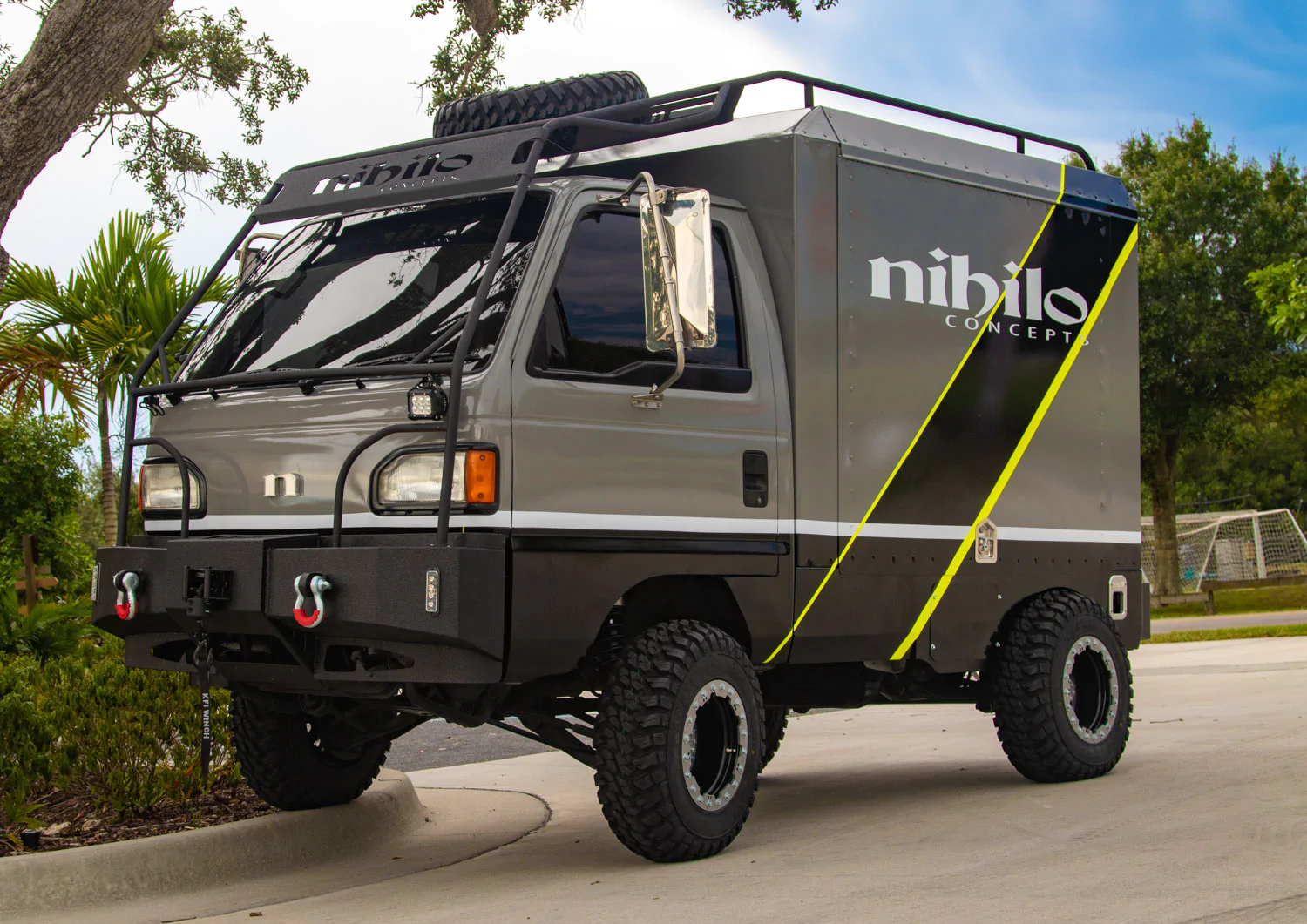 Japanese Mini Truck Vs. Chinese Mini Truck Which Is Best
When it comes to small utility vehicles, mini trucks have gained immense popularity over the years due to their compact size and versatility. You can use mini trucks for farming, transportation, and even as recreational vehicles. The two major players in the mini truck market are Japanese and Chinese manufacturers. In this article, we will compare the Japanese mini truck with the Chinese mini truck to determine which is the best.
Japanese Mini Truck
Japanese mini trucks are known for high quality and reliability. Their manufacturers are reputable companies such as Suzuki, Honda, and Mitsubishi, to name a few. These mini trucks have achieved fame in the market for many decades leading to a good reputation.
A key advantage of Japanese mini trucks is their build quality. They contain high-quality materials that ensure durability and longevity. The engines are fuel-efficient and capable of withstanding tough conditions. Japanese mini trucks also have advanced safety features for passengers and drivers' safety.
Another advantage of Japanese mini trucks is the availability of parts. These vehicles have been available in the market for a long time. Therefore, finding replacement parts is not a problem. Most parts are readily available and easily sourced from dealerships or online.
Japanese mini trucks suit various needs as they are in the market with different models and configurations. You can customize these trucks for different purposes, such as farming, transportation, and recreational vehicles. This makes them a versatile and practical option for many users.
Chinese Mini Truck
Chinese mini trucks have gained fame recently due to their affordability. The manufacturers include Changan, Foton, and Dongfeng. They are relatively new in the market compared to their Japanese counterparts.
A key benefit of Chinese mini trucks is their affordability. Their price is lower than Japanese mini trucks, making them more accessible to buyers who are on a tight budget. Due to this, they are a popular option for small businesses and individuals who need a small utility vehicle but cannot afford the higher-priced Japanese mini trucks.
Chinese mini trucks also come in a variety of models and configurations, just like Japanese mini trucks. You can customize these to suit different needs, making them a multipurpose option for various individuals.
However, Chinese mini trucks have some disadvantages too. One of the major concerns is their build quality. Chinese car manufacturers do not use high-quality materials for their mini trucks, making them less durable than Japanese mini trucks. It means that they may need higher maintenance and repairs in the long run, leading to higher costs.
Another concern with Chinese mini trucks is their availability of spare parts. These vehicles are not too old, so finding replacement parts can be challenging. Parts may not be readily available, and sourcing them may take longer. This can cause downtime for users who need their mini trucks for business purposes.
Which Is Best?
Quality, Durability, Reliability
When choosing between a Japanese mini truck and a Chinese mini truck, there are several factors to consider. A Japanese mini truck is the best option if you are looking for a high-quality, durable, and reliable mini truck. They are built to last, and replacement parts are readily available. There are safety features that give a safe ride.
Affordability
On the other hand, if you are on a tight budget and cannot afford the higher-priced Japanese mini trucks, then a Chinese mini truck is a good option. They are affordable and come in different configurations and models to serve different purposes. However, it is important to remember that the build quality may be lower, and replacement parts may not be readily available.
Personal Preference
Ultimately, the pick between a Japanese mini truck and a Chinese mini truck depends on an individual's budget, intended use, and personal preference. A Chinese mini truck may suit your needs if you are looking for a mini truck for recreational purposes or light usage. However, if you plan to use your mini truck for business purposes, a Japanese mini truck is the better option due to its durability and reliability.
Reputation
It is also crucial to see the after-sales service offered by the manufacturer or dealer. Japanese mini truck manufacturers have a strong reputation for providing excellent after-sales service, which includes regular maintenance, servicing, and repairs. This ensures that the mini truck remains in good condition and continues to operate efficiently for many years.
Emissions Regulations
Another factor to consider when choosing between Japanese and Chinese mini trucks is the emissions regulations. Japanese mini trucks meet strict emissions regulations, making them suitable for the environment. They have advanced technology that reduces emissions and improves fuel efficiency. On the other hand, Chinese mini trucks may not meet the same emissions regulations, which can have a negative impact on the environment.
Safety Features
Regarding safety, Japanese mini trucks are equipped with advanced safety features such as airbags, anti-lock brakes, and traction control. These features ensure the driver's and passengers' safety in the event of an accident. Chinese mini trucks may not have the same safety features, which can be a concern for some buyers.
Performance
In terms of performance, both Japanese and Chinese mini trucks are fuel-efficient and reliable. However, Japanese mini trucks have a reputation for higher performance due to innovative design and technology. People prefer these for their smooth ride, easy handling, and responsive acceleration.
Conclusion
In conclusion, both Japanese and Chinese mini trucks have advantages and disadvantages. Japanese mini trucks are great for their quality, durability, and reliability, while Chinese mini trucks are affordable and versatile. People choose the mini truck based on their budget, intended use, and personal preference. However, it is important to remember that the key considerations are built quality, availability of parts, and after-sales service when making a decision.
A Step-by-Step Guide to Choosing a Good Auto Mechanic
Finding a reliable auto mechanic might be challenging, but it doesn't have to be if you choose to follow a step by step procedure. Moreover, finding a good auto mechanic is easy if you know what to look for and where to seek it. To help you with that, here in this article, we have discussed about 4 quick strategies that could help find a reliable auto mechanic effectively.
Role of an Auto Mechanic For Your Car:
One who works on and maintains motor vehicles is call an auto mechanic. Many different types of personnel, from those who work in repair shops to those who work for automakers and dealerships, fall under this umbrella term since they do basic maintenance like oil changes and brake repairs.
Most car mechanics can perform standard services like oil changes and tyre rotations, but many choose to focus on a particular area like engine rebuilding or transmission repair.
Formal training is frequently provide through post-secondary trade schools; others may have receive on-the-job training.
However, just because two mechanics have the same certification doesn't mean they do the same work; different types of cars call for varied technical expertise, and there can be substantial variances in pay and responsibilities even among qualified mechanics.
The best car mechanics are always on the cutting edge of the industry's latest developments.
The Five-Step Process for Deciding on an auto mechanic
Unfortunately, it's only sometimes obvious whether or not an auto mechanic can be trust or skill.
Likewise, you can rely on something other than the name on the door. These can be purely decorative or deceptive, so it's best to process cautiously.
It's not a big deal, though, because there are five easy steps to discover a trustworthy auto mechanic who will go out of their way to ensure your vehicle runs well for years.
1. Recognize what it is you require
You must be aware of your requirements before you choose the auto mechanic who promises to fix anything depending upon your requirements. But now is the moment to work out solutions to situations that need specialize knowledge or equipment.
If your car breaks down, you may find several people you collaborate with in your area who can help you get it back on the road. As a result, it's important to assess how many vehicles will be impact by a particular repair project before jumping in headfirst.
2. Find out whether the mechanic has any certifications
Many mechanics will gladly tell you more about their background and expertise if you ask them. It is a fantastic chance for the customer to learn more about the experience and training of the mechanic they are considering hiring. It also helps them decide whether or not to pay extra for a technician who specializes in fixing their model of vehicle.
3. Learn as much as possible about the company's history
Verify their level of experience in the market. An establish business with years in the industry usually produces higher-quality results than a startup that has yet to prove reliable.
Think about the vehicle repair shop and how its employees are known to the public. Start your investigation through internet, where you'll find positive and negative reviews from the company's former clients. Remember to consider these factors as you make your next hiring selection.
4. Try to find a repairer willing to show you the problem
It would help if you had an auto mechanic who is sure of themselves and their abilities. You can learn this by inquiring how the mechanic conclude that there was a problem with your vehicle and whether or not they had experience fixing similar problems.
A service center that allows you to look under the hood is another sign, that the auto mechanics there know what they're doing. Yet, if a repair shop is willing to let you peek under the hood, you may be assure that they have the expertise to fix whatever ails your car. They can only readily hide hoses and belts, so you might not have to go elsewhere if they let you inspect them.
Conclusion:
That's why it's crucial to know up front if the auto mechanic you're considering employing is qualify. After all, if you trust the professionals of auto mechanic with your car maintenance, you can expect nothing less than the best. Ultimately, you'll be making a wise financial decision for yourself.