Aliakbari Set To Make One Championship Debut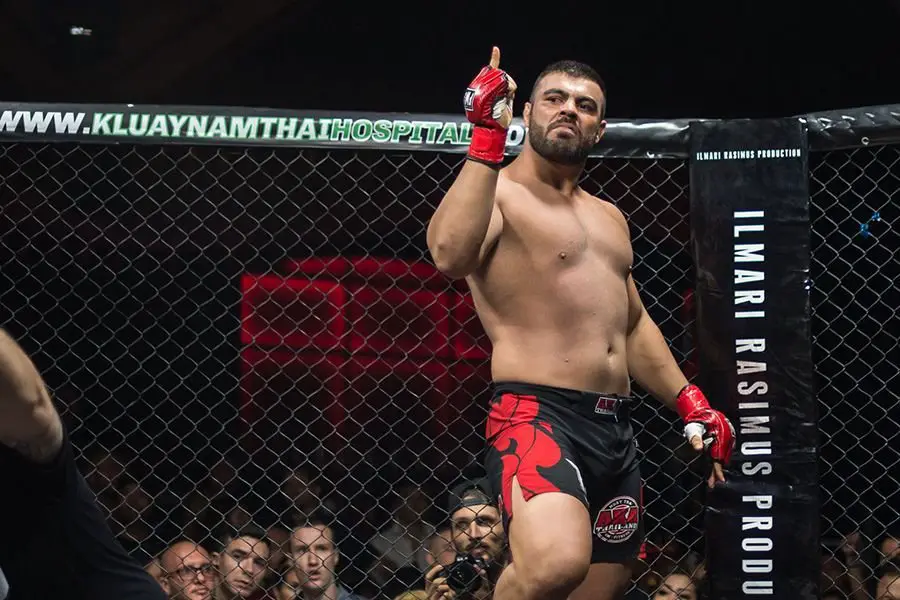 As he prepares to make his ONE Championship debut, Iranian mixed martial artist Amir Aliakbari insists that he hasn't given up on his dream of making his debut as a UFC fighter in the future.
Aliakbari will face undefeated South Korean heavyweight Kang Ji Won on the ONE Championship: Fists Of Fury 2 card on February 26, 2021, at the Singapore Indoor Stadium in Kallang, Singapore. Both newcomers to the ONE Championship lineup of fighters, they will be co-main event headliners alongside another heavyweight bout that features the promotional debut of Anatoly Malykhin of Russia against the former ONE Championship light heavyweight world title challenger Alexandre Machado of Brazil.
Aliakbari pointed to a ONE Championship heavyweight title fight with Brandon Vera as his immediate goal. "Because I'm the best," Aliakbari told Asian MMA. "I'm so much better than the champion. I want to fight him. I'm so ready for this fight. Just tell me anywhere, anytime. I am a fighter. Send me anywhere and I'll go for a fight. I'm coming for the belt.
"All I know in life is winning gold. It's why I'm coming to ONE, to become the best in the world, the ONE champion. Brandon Vera is a great champion who's been around for a long time, but I am on a different level.
"After the fights with me, I will give him doubts whether he wants to fight again. Nothing disrespectful, but I just believe I am the best. I am a different breed."
Aliakbari was attracted to the ONE Championship because he believes that it is one of the most exciting MMA promotions in existence today. 
"I had some offers from different promotions but ONE reminds me of the Olympic Games, it's a spectacle," Aliakbari said. "I have some friends who've fought there and they gave me some very good reviews on the way they were treated."
A Champion Wrestler
The 2010 world wrestling championship gold medal winner in the Greco-Roman division, Aliakbari was the first Iranian world-class wrestler to give MMA a try when he signed with longtime MMA entrepreneur Mishal Abul in 2014.
Aliakbari was initially trained by former UFC star Mike Swick with AKA Thailand in Phuket, Thailand. There, he worked alongside UFC fighters Mark Hunt and Soa Palelei.
"I like Mike Swick," Aliakbari said. "He really helped me before."
In terms of style, Iranian wrestlers are known worldwide for their aggressiveness and competitive nature, so it's not a surprise that they would make strong MMA fighters.
"I like the cage because I'm wrestling," Aliakbari said. "It's very much better for me."
While he doesn't compare himself to any UFC heavyweights, Aliakbari did admit to an admiration for two-time UFC world heavyweight champion Cain Velasquez as the best he's ever witnessed in the heavyweight division. "After me, of course, for I am the best," Aliakbari said. "I respect every fighter. They are all good fighters. But I know I am the best."
Impressive MMA Record
Aliakbari is 10-1 in the octagon, seven of his 10 victories coming via knockout. The only loss of his career came against legendary MMA fighter Mirko Cro Cop, the former PRIDE world heavyweight champion. That was during Aliaknbari's stint with the Japanese-Based RIZIN.
"It was a very good experience for me," Aliakbari said of his time with RIZIN. "I had big fights in Japan."
UFC Letdown
In June of 2019, Aliakbari signed with UFC. Ultimately, the combination of a doping ban enforced against him by the governing body of international amateur wrestling, combined with U.S. sanctions against his native Iran, led Aliakbari to withdraw from his UFC contract.
"Of course I was a little upset with what happened, but I'm happy where I'm at now," Aliakbari said. "I look forward to becoming a champion here, and then perhaps facing a UFC champion after that."
He currently trains in his homeland under manager Ali Abdelaziz, and they have their eyes fixated on showing American fans of UFC what a true Iranian champion looks like.
"This is the real Iron Sheik, the pride of Iran," Aliakbari told ESPN of himself. "[The] the USA have one guy named Iron Sheik but he's a fake – fake wrestler. 
"I want to show the entire world the real Iron Sheik."