10 Easy Women's Costumes That Will Make You Stand Out this Halloween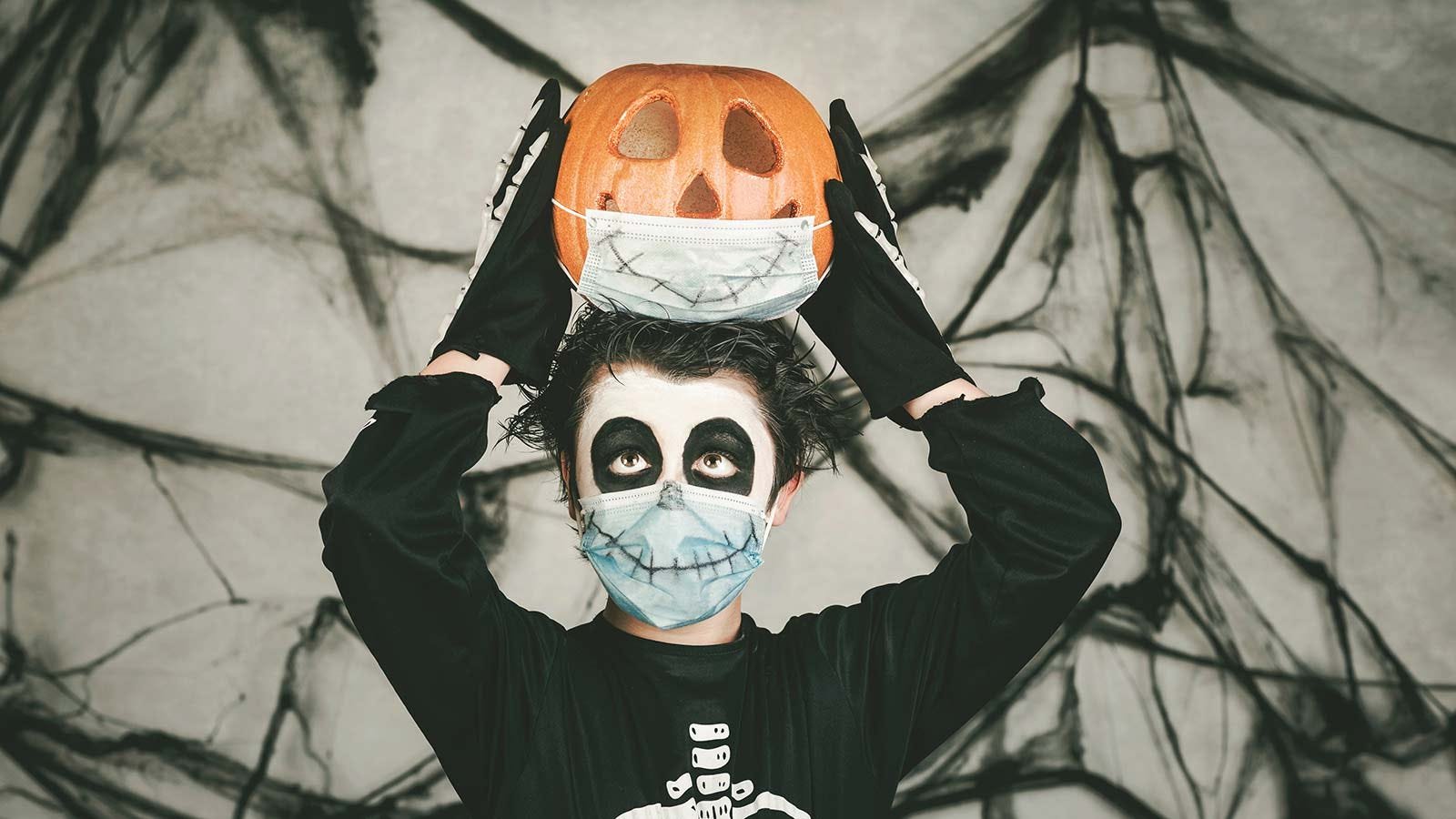 It happens with every costume party: you tell yourself you'll have a plan, but by the time the day comes you've forgotten all about it. Time to pull out the witch costume you've used for years in a row. Not anymore!
Say goodbye to boring, repetitive costumes for Halloween or costume parties. This year, you'll stand out from the crowd! Here's a list of easy DIY women's costumes you can create with things you already have.
Tinkerbell
This character is super recognizable, so it's easy to create a costume without too much effort. All you'll need is a short green dress, fairy wings, and a classic updo. You'll get bonus points if you use some glittery, magical makeup! You can try to convince your beau to match with you like Peter Pan, but this Tinkerbell costume is just fine on its own.
Holly from

Breakfast at Tiffany's
If you want to spend your evening looking classy, Holly is a great choice! Get decked out in a short pearl necklace, a little black dress, and a fancy updo. A big pair of sunglasses complete the look, and if you're getting hungry, you can include a croissant in your costume too! This Breakfast at Tiffany's costume is timeless.
A Pineapple
Is your favorite color yellow? For this fun and easy costume, all you need is a yellow outfit and a green headpiece. You can make a pineapple hat out of some headwear you already own, or you can even use a real pineapple top if you want this costume to be extra authentic. 
Pageant Winner
With this costume, you can go all-out! Choose your fanciest dress and get dolled up for your next costume party as a pageant girl. You can use an old tiara and white gloves if you have them. If you have some old white fabric from a sheet or curtain, you can make your own sash and customize it based on your town or country!
Rosie the Riveter
If you feel like a strong woman, show the world that "you can do it" with an easy Rosie the Riveter costume! Grab some jeans and a blue button-down, or a different color if you're in a pinch. Put your hair up with a red bandana, and you're done! Flex your bicep for a great photo op if your costume party has a photo booth.
Dani from

Midsommar
Do you have a flower crown leftover from your 2014 hipster days? This costume is a great way to reuse it, and if you liked the movie Midsommar, it can act as a great conversation starter. Use an old flower crown and a long white dress, and you're done! If you have a group of friends, you can easily plan and match them for your costume party.
Mona Lisa
This costume idea is fun, easy, and super customizable. Print out a picture of the Mona Lisa or another famous woman's portrait, and cut a hole in the center. You can use an old picture frame to complete the look! Under the frame, you can wear whatever you want, but a black dress works just fine.
Men in Black
Channel your inner Will Smith and save the world for your costume party. Grab an old black suit and tie, and you already have a costume! Use some sunglasses to tie it all together. This is a great costume if you're going to a party with friends and you're all in a pinch. Who needs Men in Black when you've got women?
She Sells Seashells
If you've gone on a tropical vacation, you might have some old seashells lying around. For this funny women's costume, you can use any old jacket, but a trench coat works best. Glue, tape, or sew your seashells into the inside of your jacket, and you're done! To start some party conversations, try getting people to do the tongue twister for you!
A Character from

The Birds
Do you remember this old Hitchcock movie? If you have a skirt and blazer set, or any other look from the 60s, you can recreate The Birds. Mess up your hair and add some dirt to make it look like you've gone through a bird attack. If you have a printer, find some pictures of birds or feathers and tape them all over your body. This is an easy but unique costume!
We hope you got inspired by our easy women's costume ideas! If you're really lost for ideas, try ordering a costume online at Oya Costumes. Whether it's Halloween or you're just headed to a friend's costume party, we're sure you'll find something special!
Ten things you didn't know about the bape monkey
BAPE, short for A Bathing Ape, has been one of the most popular streetwear brands on the market since its inception in 1993, but it didn't gain widespread popularity until 1999 when it was worn by Pharrell and other celebrities. Here are ten things you probably didn't know about this iconic company and its products.
Founder
Nigo, The Man Behind BAPE Hoodie: Nigo started his first clothing store in Harajuku, Tokyo at the age of 19. Always fascinated by vintage clothing and American urban subcultures, Nigo focused on brands such as Rocawear, Ecko Unltd., Mitchell & Ness, and Triple 5 Duše.
History
A Bathing Ape (A BATHING APE), founded in 1993, is a Japanese clothing brand specializing in hip hop fashion. The brand offers a wide range of products from t-shirts to sneakers, accessories, and fragrances for both men and women. His most famous products are shark hoodies, which have become popular all over the world. Thanks to its unique style and high-quality materials, it has become one of the best Japanese brands recognized by urban youth around the world.
Brand logo
A Bathing Ape Hoodie is known for its unique designs and its world-class quality standards. Its logo was designed by founder Nigo, who is also known for creating BAPE. The name of the logo is a play on words: it stands for Brand of American Predator. This symbol is meant to convey that, like a predator in nature, the wearer of BAPE clothing should stand out from the crowd.
The BAPE logo is a play on words that stands for Brand of American Predator, with the upside-down duck representing the wearer's intent to be different from the crowd. The name of the brand originated from a hoodie designed by Nigo, founder of A Bathing Ape. The first clothing collection he produced bore this logo as well as an arrow pointing down as part of a suggestion to "be cool when you are uncomfortable".
The BAPE logo was designed by Nigo. It was inspired by a soft Japanese word for duck, meaning "the passenger of the deep current." This symbol was meant to convey that the wearer of BAPE clothing should stand out from the crowd.
How to buy a BAPE hoodie
Buying a BAPE Hoodie isn't like buying just any other t-shirt; first, you have to get your hands on a BAPE sweatshirt. It's hard for someone to tell if they're buying an authentic one or not, that's why we're here. We've put together some important tips to help you get an authentic BAPE hoodie. Read these tips to know exactly what a real piece of clothing looks like.
Where to buy BAPE products
BAPE is one of the most successful brands today. Not only is it an innovative brand, but it also has a cult following who love its over-the-top approach to fashion (and in some cases, geek culture) fan conventions such as Coachella and New York Fashion Week are often synonymous with BAPE's presence, and merchandise. This makes sense because Nigo, its founder, is Japanese. Although Nigo opened a store in New York in 2004, he still lives and works in his native Tokyo.
BAPE is a Japanese brand and its name has become synonymous with Japan. As a result, you'll want to go directly to their online store to purchase authentic gear.
BAPE is a Japanese fashion label and clothing brand founded by Nigo in 1997. If you're looking to buy BAPE merchandise without the hassle of shipping abroad, their online store offers ready-made products made in Japan. Go directly to this website if you want to order from Japan. If you're into streetwear, especially boys' clothing like sneakers, then BAPE is where it's at. With designs influenced by Japanese culture, this brand has no trouble making its way into the hearts of creative 23-year-olds around the world.
Stores that sell BAPE products worldwide
BAPE STORE® NY, BAPE STORE® LA, BAPE STORE® London and BAPE STORE® Japan. There are currently two flagship stores in New York and Los Angeles. As of September 2008, further flagship stores were planned to open in London and Tokyo.
The most common misconceptions about the brand
The brand is actually spelled A Bathing Ape, but most people, even BAPE employees, don't realize that. They often spell it Bape (note: don't do this. They sent most of us letters from HQ to correct us). That's because BAPE stands for A Bathing Ape in London. The Japanese word for monkey is Saru, so that makes sense.
Is it worth waiting for the drops?
For many, BAPE clothing is synonymous with hype. It's one of those brands that make people camp out in the freezing weather (okay, maybe not as bad as waiting in line for days to be one of the first hundreds to see Star Wars: The Force Awakens) just to find out, that there are probably better hoodies/shirts/pants that they could have bought over time. But should you really care about these hyped drops?
Will I be scammed when I shop online?
Will I be scammed when I shop online? Like everything, there is always a risk. If you don't do your research and know what to look for, then you could end up getting scammed.
Yes, there are many scam websites out there. But if you do your research, and look for warning signs (like poor grammar and spelling of product descriptions), then it's much easier to tell whether a website is reputable or not.No, most online shopping is legit. There are a few things to look for though and know about before you shop on any site.
Read More: MozUsa