Create A Calming Oasis In Your Backyard With These Design Ideas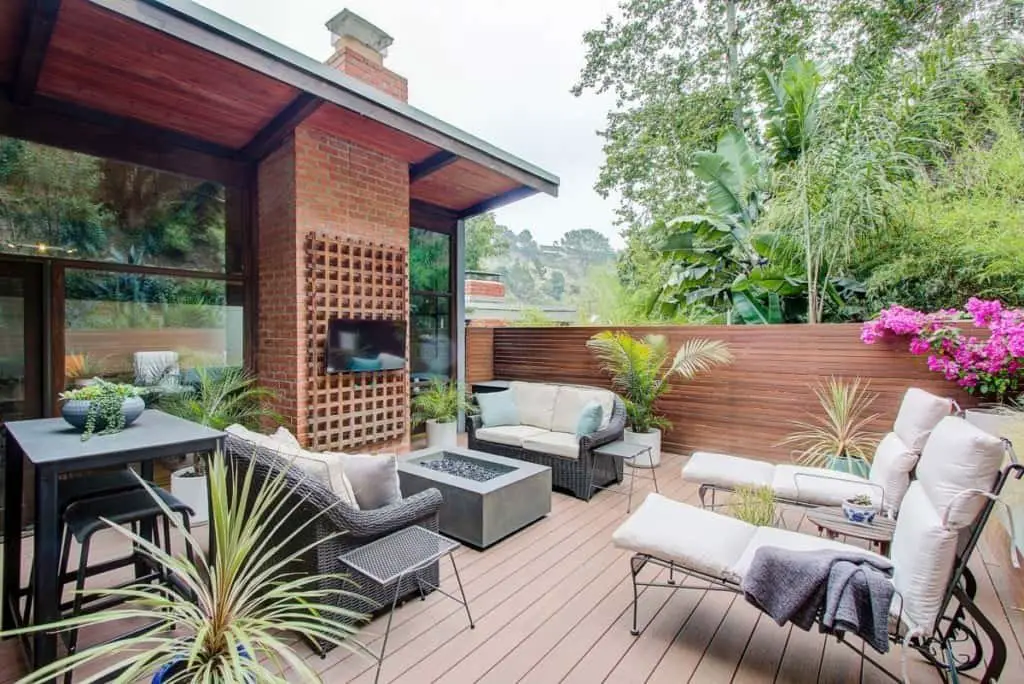 Your backyard can be a blank canvass wherein you can make your place of sanctuary for you and your family. You can make your outdoor space comfortable, attractive, and stylish just as your interiors are. You'd get out and you'd still feel cozy and relaxed but with the added bonus of sunshine and fresh air. 
Here are some ideas on how to do your decorations and arrangements to achieve an oasis just right outside your backdoor:
Relaxing Hot Tub
Nothing against pools but if you don't want to use your entire yard for a swimming facility then you can go for a hot tub. It's also more affordable than a pool and offers a good place to relax and calm your mind. After an arduous couple of days, sitting in a hot tub with an open sky above you will surely take your troubles away.
Fire Pits
In the summer you can turn the heat up with a fire pit. Don't forget to stock up on s'mores fixings for when you have friends over. Or you can just sit there and enjoy the cozy warmth from the flames while listening to the crackling sound of burning wood, under a clear summer night's sky.
Fire pits are also enjoyable in the winter as a source of warmth for you and your friends. A well-made fire pit can make for a beautiful centerpiece on your backyard's setup surrounded by comfortable lounge chairs.
Private Garden Retreat
By turning an old garden shed into a cabin you can make your private room away from the house to enjoy some peace and quiet. If you don't have a shed, there are a lot of selections of sheds for sale, so you don't have to make something from scratch. By surrounding it with garden plants and flowers, you can create a private or secret hideaway for yourself. Make sure you decorate your shed or cabin to make it cozy but leave an open space so you can enjoy your view of the garden around you.
Landscaping
Make your backyard welcoming by introducing some landscapes into your design. Make it a place where you can reconnect with nature and enjoy the fresh air. If you don't like to stuff furniture and decor into your outdoor space, then you can focus on floral and landscaping. You can just put a couple of chairs or a bench on the side so you'll have something to sit on while you enjoy the beauty of nature that you reigned in your backyard.
Grill and Dining Table
Food gathers people together so if you want to spend a quiet day or evening with friends, you can take them to the backyard and enjoy some grilled grub and a couple of pints. Also, set up an outdoor table with chairs so you'll have a space to gather around and enjoy your meal. 
A lot of people find cooking unwinds them and calms their thoughts about other matters in their lives. Combine that with the fresh breeze from your outdoor space and the company of loved ones, you'll have yourself something better than a real oasis.
Outdoor Movie Lounge
Sometimes binge watching in the bedroom or in the house, in general, feels taxing and uncomfortable. By making your backyard an outdoor movie lounge, you can spend an evening under the stars watching your favorite shows. Throw in a few pillows over your rug made out of durable polypropylene fibers. Try mixing the colors and patterns so you'll have great texture and depth in the design. Don't forget to set your projector and other electronic devices under a roofed area to protect them for when it rains.
Your Own Bar
Had a long day? Simmer down with your favorite glass of whiskey under a clear night sky, because you deserve it. Setting up a bar beside your hot tub or your grill also completes a home getaway space in your backyard. If you have friends over, you can just take them directly to the backyard and start the Mexican-themed night with some shots of tequila.
Playhouse
Converting your tool shed into a playhouse is going to need some work, but the end result will be something you and your family can enjoy together. First is, you'll need to take all of the tools out, you can take them into your garage or if you have a new space to keep them. Next is, do some safety checks, clean out toxic chemicals, molds, and other hazardous compounds that may have developed over the years.
Next is to design the new playhouse with the old structure as a base and be creative to make it inviting for your kids. By making it their own hideaway, you'll probably have solved your problem with toys scattered around the house as you can store them in their own private shed. You can keep them company by having a swing or bench beside the playhouse where you'll watch them over.
Meals under a Flower-covered Pergola
Putting bistro chairs under a pergola makes up for the perfect spot to have lunch or dinner on. If you have flower-bearing plants or flowers that crawl over a structure, you can position your pergola beside it so it'll provide a beautiful cover over its roof.
Citrus Garden
Why not go beyond an ordinary garden and have some small citrus grove. It improves the landscape with its bright colors and the fruits are something you can appreciate in the kitchen.
Make a Water Feature a Centerpiece
A fountain can be a cliche, but that can also mean timeless. Place some comfy sitting furniture in front of your water feature. And setting these items up under a weeping willow behind high walls can make a buzzing urban home into your own natural sanctuary.
You don't have to spend much on these ideas making use of your old furniture and other items in the house that are suitable for outdoor use. The important thing is that you do it to suit your preference and not other people. It's your oasis so it only makes sense that it should primarily cater to your needs.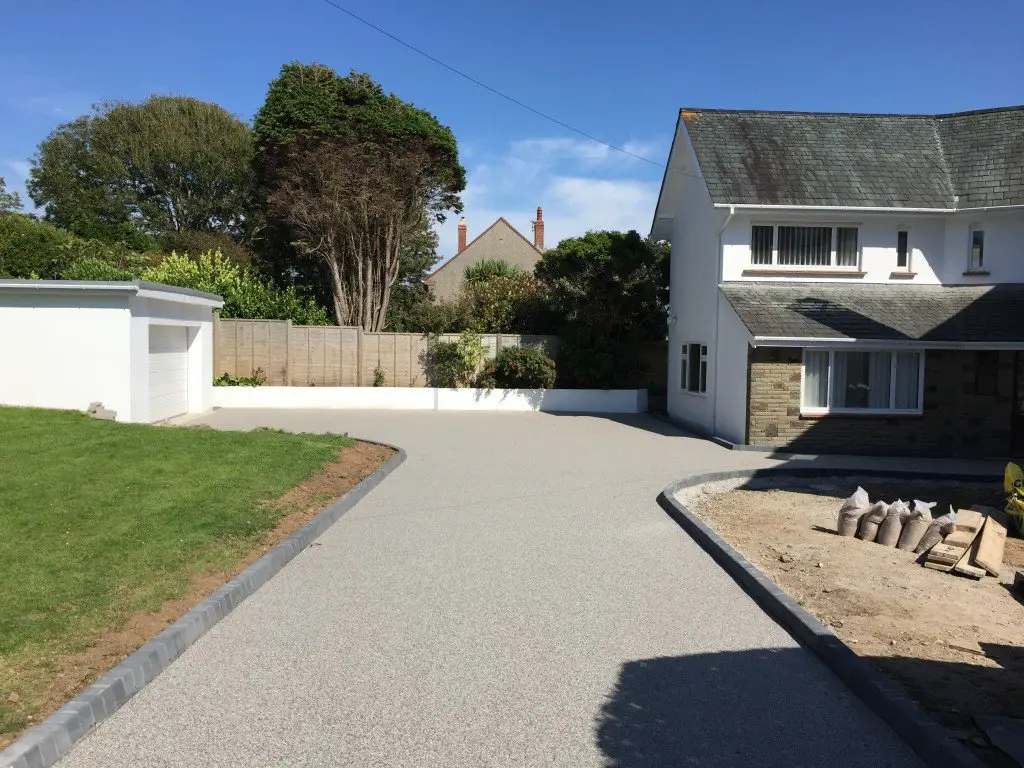 A Resin Driveway has become very popular in recent years. Resin Driveway often occurs indoors, but you can also opt for a Resin Driveway outside. This has a modern and refined look, which makes it an added value for the environment of your home. This article sheds light on the benefits, price, and some points of interest of a Resin Driveway.
What is an outdoor Resin Driveway?
An outdoor Resin Driveway consists of millions of dried and sieved small stones or other elements (eg sand), mixed with some kind of resin.
First, an adhesion primer is applied, above which the Resin Driveway is spread.
In contrast to an indoor Resin Driveway, a special glue is used here as a binder instead of Epoxy.
Polyurethane (PU) is a UV-resistant, environmentally friendly, and non-toxic agent. The stones are also colored with this non-yellowing coating. When the stones and the binding agent are mixed, everything is spread out. This PU resin will ensure that the outdoor floor is elastic and resistant to extreme temperatures. The whole will be hardened in 4 hours.
Why choose a Resin Driveway?
There are many reasons why a Resin Driveway is an excellent choice of material for your terrace.
Resistant to frost, wear, and moss
First and foremost, a Resin Driveway is very tearing and wear-resistant, and permeable to water thanks to an open structure. This way you will not be bothered by puddles on the terrace in heavy rain. In addition, this material is also protected against freezing temperatures or very high temperatures. You also do not have to worry about the growth of moss or weeds. Provided a minimum of maintenance, this green vegetation will be omitted.
Fast installation
Furthermore, a Resin Driveway can be installed relatively quickly in comparison with other materials. Certainly, if your terrace has many corners or round shapes, this is not an extra time-consuming obstacle. There is no need for customization; everything fits together seamlessly. The result is a nice and even whole without local subsidence.
Multiple applications
A Resin Driveway can also be perfectly laid out outside as a walking path in the garden, like a driveway or parking lot, around your swimming pool, or even on a balcony.
Resin Driveway can be placed on top of different types of substrate. Asphalt, tiles, concrete, clinker, stabilization sand; it's all no problem. If a surface is already present, it must be stable enough. Usually, a border is also provided around the Resin Driveway. It can, for example, be made of bluestone, aluminum, or concrete.
Cost price Resin Driveway outside
The price of a Resin Driveway terrace depends on the total surface area and the colors are chosen. You will of course also pay more if you have the work performed by professionals. On average, you pay between 30 and 75 euros per square meter. The installation of a Resin Driveway requires the necessary specialism. That is why it is recommended to call in an expert.
What to look out for with an outdoor Resin Driveway?
When installing a Resin Driveway outside, it is best to be aware of a few important things. We list a few points of attention:
The thickness of the Resin Driveway depends on the grain size. These can have a size of 2 to 3 mm, 3 to 4 mm, or 4 to 6 mm. The smaller the grain you choose, the more homogeneous the whole will look. These three dimensions correspond to a floor thickness of approximately 6 to 12 mm.
Because the outdoor floor is exposed to sunlight, you can ideally opt for a lightfast color. Lightfast colors are little or not affected by the sun. For example, think of natural fine marble or granite stones. Nevertheless, you can choose from an infinite range of colors. The non-yellowing PU binder will also ensure that the original color is retained.
For extra protection, a glossy top layer can be applied. This PU topcoat is transparent, so no color difference will be noticeable.
Cleaning and maintenance
Resin Driveway is very easy to maintain. Moreover, with this material you are assured of a long life for your terrace. The floor can be easily cleaned with a pressure washer.
The use of bleach or gavel is also perfectly possible to clean the Resin Driveway terrace, without causing damage
Resin Driveway
Would you like to have a driveway, terrace, walking path in your garden, … built? Then a Resin Driveway is an ideal choice. Because in addition to being used as an indoor floor, a Resin Driveway outside also has many advantages. What are the advantages and possibilities? 
Resin Driveway options
A Resin Driveway outside your size? That is no problem at all because there are many possibilities.
1) Size of the granules
A larger stone grain of 2 to 3 mm is ideal for outdoor use, but grains of 1 to 2 mm, 3 to 4 mm and even 4 to 6 mm are also possible. The smaller the grain, the more homogeneous the end result will be.
2) Material and color of the granules
You can choose from a wide range of natural stones and Resin Driveway colors. Do you want to avoid discoloration due to sunlight? Then it is best to go for a UV-resistant color that is not influenced by the sun, for example, stones in fine marble or granite.
3) Thickness of the Resin Driveway
The larger the grains, the thicker the Resin Driveway. The floor thickness is on average between 6 and 12 mm. The thickness of the Resin Driveway mainly depends on its use. For example, a driveway must of course be thicker than a footpath.
4) UV stability
Some Resin Driveways will discolor more quickly due to UV rays than others. Do you want optimal UV stability? Then have the stones colored with a PU agent (polyurethane). It is also best to choose a non-yellowing PU resin as a binder. This resin also makes the Resin Driveway elastic, so that it is better protected against temperature shocks. For an indoor Resin Driveway, craftsmen usually use a synthetic resin based on epoxy as a binder.
5) Surface Finish
A Resin Driveway can have a closed or an open structure. A closed structure is often used indoors. A craftsman then fills the space between the stones with a glossy or matte filler. This gives you a smooth and easy-to-clean surface, in which the structure of the stones can no longer be felt.
With an open structure, that structure remains tangible. This method is mainly used outdoors. Water and dirt particles can disappear into the pores of the Resin Driveway so that you do not get puddles on your driveway, terrace, … You can also have the Resin Driveway outside finished with a transparent PU coating with an extra wear layer. This way it is even extra protected against sunlight and weather influences.
How To Repair a Garbage Disposal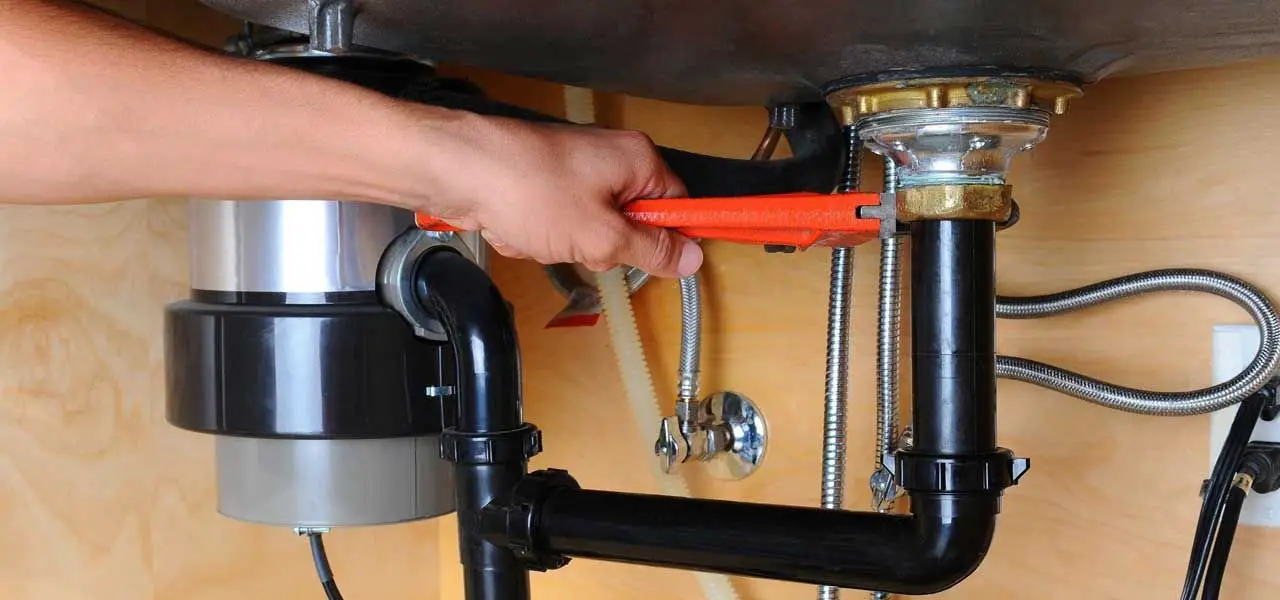 Imagine there is no garbage disposal attached with your sink to stop large chunks of debris from clogging the drain pipe. It's horrible. A garbage disposal ensures everything drains and reaches its designated place. In return, you need to maintain it and ensure that it will remain in its pristine condition.
But, what if it is somehow malfunctioning and needs repairing or replacement?
This post is dedicated to understanding different issues that often cause trouble to the disposal, how you can repair them at home.
Finding The Problem
As with every fixture or appliance, finding the problem at first reduces the repairing time and puts your mind at ease. It clears the path to solve the problem in a technical fashion.
For ailing garbage disposal, look for the obvious and concealed symptoms.
Here are some scenarios and the resulting inference;
Does Not Do Anything
This is one of the obvious symptoms that are easy to spot. If your garbage disposal is not even humming or showing signs of receiving power, it means that either the breaker is tripped or the circuit is off, somehow.
Strained Hum Or Noise
If you hear a jammed hum or noise every time you push the button of your garbage disposal, it means something is stuck inside.
Water Backing Up
In case water is backing up the sink from the garbage disposal, it means there is something stuck inside the drainpipe of the disposal.
Does Not Grind Well
Garbage disposal cuts the garbage that comes its way into little pieces so that it can move easily through the drain pipes, without clogging anything. If it is not grinding well, then it is safe to assume that something is wrong with the blades.
Leakage
This is another one of the common causes that make it troublesome for owners to deal with garbage disposal. The first thing to do in case of leakage is to find its origin. Look at the joints and connections and determine the source before plugging it for good.
Knowing what is going on inside the garbage disposal can help you in fixing one. Now, let's turn broken garbage disposal into a working one.
Solving The Problem
Before handling garbage disposal, make sure you cut the power supply to save yourself from getting electrocuted. Wear protective gear and mind the safety of other people around you.
Does Not Do Anything
In this scenario, locate the rest button of your garbage disposal. There are chances that it may start working after pushing the restart button. If this does not do the trick, check the power delivery ports.
First, connect another appliance like a beater or blender in the outlet and see it works or not. When an electrical power outlet is not providing the necessary current, go to the circuit board and reset it. In all hopes, this will get your garbage disposal grinding.
Strained Hum Or Noise
When you hear strained noise or hum coming out of the garbage disposal, or if it starts for a second and then comes to a halt, it all indicates something stuck or jammed inside it. In that case, avoid starting garbage disposal over and over as it may burn the motor out.
The culprit here could be some hard material, like bone or a metal piece, that may get stuck inside and causing the jam. Opening the panel and thorough cleaning often does the trick.
If you experience water backing up in your sink, this is the method to get rid of the issue.
Does Not Grind Well
There are three possible causes to this;
You are not running enough water through the garbage disposal. In turn, the grinding process makes too much friction for the blades.

You are grinding materials that should be grounded in the garbage disposal, like metal pieces or sticky items.

The blades of the disposal are not working properly, especially if you hear it running without grinding properly.
For a DIY enthusiast, it is definitely not cost- or labor-effective to deal with any of the scenarios. The best course of action in these cases is to replace the older unit with a new one.
Leakage
Tightening loose connections is the only way to solve this issue. From replacing unions to gaskets or cleaning seals, you need to plug the leak before starting the garbage disposal.
If the unit is somehow noisy or clogged, make sure you clear the lines and pipes to avoid further damage.
Garbage Repair Disposal Cost
The best thing about repairing malfunctioning garbage disposal is that you can handle it yourself.
But, there are cases when things are way beyond your expertise, you need to call the professionals, which means paying money for repairing.
The cost of garbage disposal repair varies depending on the make of your hardware, your locality, and the overall fee structure of your contractor.
According to estimates, it takes around $50 to $350 to get a new garbage disposal. Then, there will be installation charges which are dependent on the dealings between you and your contractor.
Garbage disposal is a great help. The ideal scenario is to take care of the hardware by regularly cleaning and maintaining it. Still, if it fails you, you can go through this post to find the cause and solution of its malfunctioning.
4 Questions that You Must Ask a Roofer Before Hiring?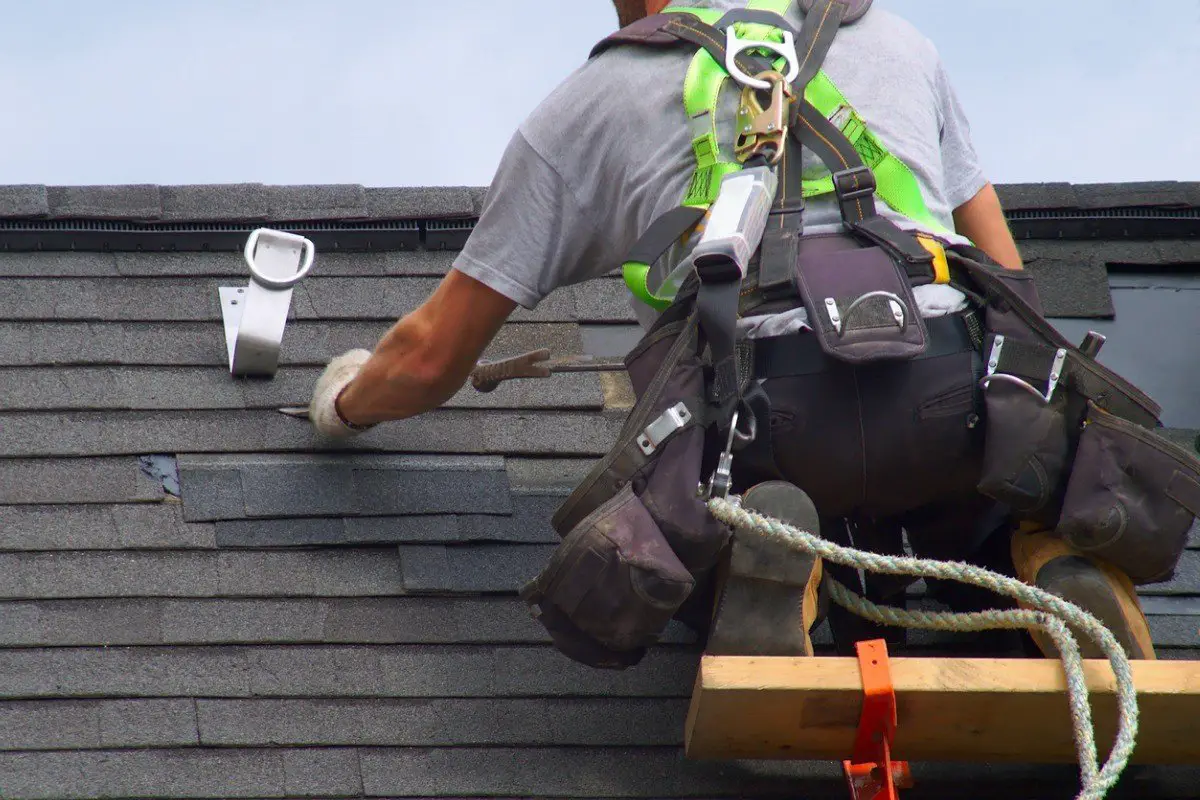 Summer is the perfect season for any kind of construction work because the heat can easily dry off any structure easily. That's the reason why you mostly find your favorite roofers busy these days. The roof must be in excellent condition all the time because it is responsible for the safety of the whole building. It prevents the excess rainwater from coming in contact with the rest of the building. That's why if the rainy season prolongs, then it is mandatory to inspect the roof. Before you hire residential roofing services to install or fix the damages, make sure you ask the following questions from the roofer.
Which roof is better for me?
This is a typical question that is mandatory to ask from a roofer if you are installing a new roof or replacing the existing one. There are several kinds of roofs and most people select a roof type based on their budget, which is a wrong way of doing things. Because every roof is designed to perform under specific weather conditions. If it is not compatible with the weather, then you'd require frequent roof repair service and the life expectancy would be very low. That's why to ask this question from the roofer to understand your situation perfectly.  
How good is your team?
Being concerned about the experience and expertise of a company is a normal thing and that's exactly why you must ask this question. Everyone loves to hire an experienced company, but only a few must up courage to ask tough questions. Asking this question will remove any doubts that you have in mind about the expertise of the company. Roofing is a very challenging task that's why the roofing company must be experienced and should have a highly skilled team at their disposal. A good combination of these two makes an excellent team. So, ask this question to remove any doubts that you might have.  
Is your company registered?
It is a credibility-based question and it is asked when you try to gauge the company from a legal perspective. Hiring a non-registered company can have severe consequences. For example, a company that isn't registered isn't bound to follow any law or quality regulation. The situation becomes critical when such a company offers a warranty because you'd never know if you would ever find them again. That's why always trust a roofing contractor that is registered and has a valid license for the construction work. Such information is usually shared on the website or if you are lucky, then you can find it in their office as well. 
Are you insured?
It is probably one of the highly ignored questions ever. People are often attracted to the price, not to the quality of service they are getting until something bad happens. The insurances are mandatory to protect your rights. Just imagine that the work is in progress and the contractor mistakenly causes damage or something happens out of the blue. Who do you think would pay for the damages? The contractor would never want to pay if he's now insured. However, on the other end, a contractor that is insured would cover up the damages with the insurance money easily. 
Finding a good roofer is quite a challenge and it has become relatively easier to do so because a lot of information can be found online. In short, you must investigate the company before hiring otherwise you are putting your investment at risk. An easy way to find a good contractor is to prepare a good list of questions and get a clear answer for them. Afterward, get everything in writing with a date.