Key Tips to Make Your Hair Grow Faster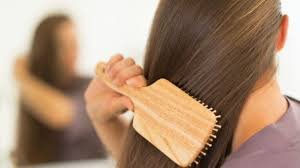 Key Tips to Make Your Hair Grow Faster
Has your hair hit a standstill in its growth journey? Growing out your hair can seem like such a struggle sometimes and knowing what products and tips you should and shouldn't use can be tricky. Your hair can be one of your biggest accomplishments, so it is important that you keep it strong and healthy.
There are thousands of hair growth products out on the market today. You can find them at beauty salons, grocery stores, and many more. But, not only does your hair need the proper products, it also needs the essential nutrients and vitamins to help it thrive. By putting all of these supplements and dietary tips together, your hair will begin to grow faster in no time. Keep reading below to learn about the key tips to make your hair grow faster.
Best Products for Hair Growth and Thickness
When searching for hair products, you need to understand the type of hair that you have in order to choose the ones that will work best for you. Do you have oily hair? Dry hair? Thick hair? Thin hair? These are a few of the questions that you need to ask yourself before shopping for hair care products. For example, if you have oily hair, try going for shampoos that are not as thick and creamy. This way it will not increase the amount of oil that you already have in your hair. Thick and creamy shampoos would be better for someone who has damaged, dry, and brittle hair.
It is also important to check the ingredients. There are several substances that can be harmful to your hair health that are placed in products on the shelves. Do not pick out a gel or shampoo based off of their smell alone. It is crucial that you know what these chemicals/substances are so that you can avoid them at all costs. Stay away from products that contain sulfates, parabens, and other harmful chemicals. They can be detrimental to your hair health and halt growth.
Some of tr hair growth and thickness are the ones that are made with high intelligent technology that have been clinically tested and trialed by medical professionals and scientists. This includes products and devices that use low level light therapy to grow the hair thicker and faster on the scalps of both men and women. This is a natural hair growth treatment involving no chemicals or surgical procedures. These devices are convenient to use, allowing the individual to complete treatment in the comfort of their own home.
Natural Hair Growth Tips
Some of the best natural hair growth tips include using essential oils to increase hair growth and thickness. These oils have been used for thousands of years for both cosmetic and medicinal purposes. Essential oils such as peppermint, rosemary, lavender, and almond oil are all great for hair care. Peppermint oils stimulate the cells of the body where it is applied. If you apply it to the scalp, the oil will stimulate the cells. This will increase the blood flow to the hair follicle cells and encourage growth. Rosemary is a popular essential oil for hair growth because of its ability to increase cellular metabolism. This means that it improves cellular growth and strength. Lavender has the ability to prevent bacteria from growing. It soothes the scalp and prevents dandruff and dryness. Keeping your scalp moisturized is very important when trying to improve the speed of hair growth. Almond oil makes your hair less prone to split ends. In turn, this means your hair growth will not be slowed down by losing hair that is damaged.
Best Foods for Hair Growth
Instead of focusing on just products and oils to promote faster hair growth, try incorporating a healthier diet to your everyday routine. Your diet is a big part of how your body functions, and without a healthy body, your hair will not be healthy. Eat foods that are rich in protein, vitamins, and minerals.
Your hair is made up of protein (keratin), so it is critical that you get enough of this in your diet. Eat foods like spinach, nuts, meat, fish, eggs, cheese, and seeds. These are just for starters, there are hundreds of foods out there that have a high protein content that you can also be eating. You will also want to make sure you get enough vitamins and minerals in your diet. Focus on eating foods like fruits and vegetables that contain vitamins A, C, D, and E. Your hair will thank you for feeding it such wonderful foods. However, if you are finding it difficult to consume these food groups, try taking a multivitamin daily. These will provide your body with all of the essential nutrients it needs to supply a healthy head of hair.
Conclusion
Although your hair on your head is essentially "dead", it requires upkeep to remain healthy. It is easy to forget about maintaining your hair, but results will quickly show if you do. Remember the key tips to make your hair grow faster: shampoo, conditioner, low level light therapy, essential oils, and diet. If you can keep up on this list of necessities, your hair will be thriving.
Ten things you didn't know about the bape monkey
BAPE, short for A Bathing Ape, has been one of the most popular streetwear brands on the market since its inception in 1993, but it didn't gain widespread popularity until 1999 when it was worn by Pharrell and other celebrities. Here are ten things you probably didn't know about this iconic company and its products.
Founder
Nigo, The Man Behind BAPE Hoodie: Nigo started his first clothing store in Harajuku, Tokyo at the age of 19. Always fascinated by vintage clothing and American urban subcultures, Nigo focused on brands such as Rocawear, Ecko Unltd., Mitchell & Ness, and Triple 5 Duše.
History
A Bathing Ape (A BATHING APE), founded in 1993, is a Japanese clothing brand specializing in hip hop fashion. The brand offers a wide range of products from t-shirts to sneakers, accessories, and fragrances for both men and women. His most famous products are shark hoodies, which have become popular all over the world. Thanks to its unique style and high-quality materials, it has become one of the best Japanese brands recognized by urban youth around the world.
Brand logo
A Bathing Ape Hoodie is known for its unique designs and its world-class quality standards. Its logo was designed by founder Nigo, who is also known for creating BAPE. The name of the logo is a play on words: it stands for Brand of American Predator. This symbol is meant to convey that, like a predator in nature, the wearer of BAPE clothing should stand out from the crowd.
The BAPE logo is a play on words that stands for Brand of American Predator, with the upside-down duck representing the wearer's intent to be different from the crowd. The name of the brand originated from a hoodie designed by Nigo, founder of A Bathing Ape. The first clothing collection he produced bore this logo as well as an arrow pointing down as part of a suggestion to "be cool when you are uncomfortable".
The BAPE logo was designed by Nigo. It was inspired by a soft Japanese word for duck, meaning "the passenger of the deep current." This symbol was meant to convey that the wearer of BAPE clothing should stand out from the crowd.
How to buy a BAPE hoodie
Buying a BAPE Hoodie isn't like buying just any other t-shirt; first, you have to get your hands on a BAPE sweatshirt. It's hard for someone to tell if they're buying an authentic one or not, that's why we're here. We've put together some important tips to help you get an authentic BAPE hoodie. Read these tips to know exactly what a real piece of clothing looks like.
Where to buy BAPE products
BAPE is one of the most successful brands today. Not only is it an innovative brand, but it also has a cult following who love its over-the-top approach to fashion (and in some cases, geek culture) fan conventions such as Coachella and New York Fashion Week are often synonymous with BAPE's presence, and merchandise. This makes sense because Nigo, its founder, is Japanese. Although Nigo opened a store in New York in 2004, he still lives and works in his native Tokyo.
BAPE is a Japanese brand and its name has become synonymous with Japan. As a result, you'll want to go directly to their online store to purchase authentic gear.
BAPE is a Japanese fashion label and clothing brand founded by Nigo in 1997. If you're looking to buy BAPE merchandise without the hassle of shipping abroad, their online store offers ready-made products made in Japan. Go directly to this website if you want to order from Japan. If you're into streetwear, especially boys' clothing like sneakers, then BAPE is where it's at. With designs influenced by Japanese culture, this brand has no trouble making its way into the hearts of creative 23-year-olds around the world.
Stores that sell BAPE products worldwide
BAPE STORE® NY, BAPE STORE® LA, BAPE STORE® London and BAPE STORE® Japan. There are currently two flagship stores in New York and Los Angeles. As of September 2008, further flagship stores were planned to open in London and Tokyo.
The most common misconceptions about the brand
The brand is actually spelled A Bathing Ape, but most people, even BAPE employees, don't realize that. They often spell it Bape (note: don't do this. They sent most of us letters from HQ to correct us). That's because BAPE stands for A Bathing Ape in London. The Japanese word for monkey is Saru, so that makes sense.
Is it worth waiting for the drops?
For many, BAPE clothing is synonymous with hype. It's one of those brands that make people camp out in the freezing weather (okay, maybe not as bad as waiting in line for days to be one of the first hundreds to see Star Wars: The Force Awakens) just to find out, that there are probably better hoodies/shirts/pants that they could have bought over time. But should you really care about these hyped drops?
Will I be scammed when I shop online?
Will I be scammed when I shop online? Like everything, there is always a risk. If you don't do your research and know what to look for, then you could end up getting scammed.
Yes, there are many scam websites out there. But if you do your research, and look for warning signs (like poor grammar and spelling of product descriptions), then it's much easier to tell whether a website is reputable or not.No, most online shopping is legit. There are a few things to look for though and know about before you shop on any site.
Read More: MozUsa