Whiteboard Animation: Advantages of Whiteboard Animation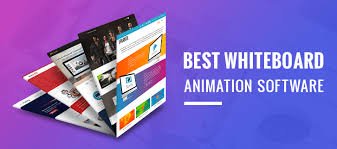 Whiteboard Animation: Advantages of Whiteboard Animation

Whiteboard animation is a type of animation you may have already seen. But you never realized that they belonged to a specific type of animation. Probably because it was so much more focused on their quality content, rather than the animation itself. These videos are those in which simple drawings, sometimes even caricatures, are placed on a whiteboard. As if they were actually made in a video whiteboard, the one you probably have somewhere in your work. Drawings usually do not feature complex animations, with each scene designed to simply illustrate narration or dialogue. Of course, colorful, dynamic animation or realistic 3D animation is attractive and can impress your consumers. But of course, one must keep in mind that every tool has its purpose.

In the following, we will show you what are the advantages of using a whiteboard animation and what are its applications.

1 – Simplicity

A whiteboard video animation should be simple and to the point. The characters and environments used are all simplified, with simple coloring, sometimes only in black and white. But that does not mean that a whiteboard animation is poorly done. They are made precisely to represent what you want so that potential consumers don't just understand. But also what it is about and that they like what was presented in the explanatory video. In addition, this style of video is incredibly attractive to consumers. This type of art, for example, is perfect if your target audience is children or families with children, because it is very friendly and easily understandable. These features make it much more memorable.

2 – Clarity a strong whiteboard animation

As I said before, art and animations are simple. With this, the person watching the video will not be distracted by them, and will focus on what is being spoken or narrated. Precisely for this reason, this is the preferred type of Instructional Video Animation, which has to explain some procedure. The simplicity and presence of static parts (i.e. without animation) allow people to remember much better and much longer what is spoken to them.

3 – Whiteboard animation is story-driven

Story-driven is an English expression used to describe videos, audios, or texts that, while not meant to tell a story, use the structure of a story to get your message across.

You may have seen many ads that have the following structure:

– A person has a certain problem;
– He tried to solve it in a certain way, but failed, because the solution was too expensive, complicated, or inaccessible;
– But finally, he discovered a certain product that solved it perfectly.

This is a story-driven advertisement. A whiteboard animation usually follows a structure like this or similar, as it fits its "cartoony" style.

But why is this advantageous?

Because it allows people to identify with the story, and consequently identify with the product. It presents the problem, shows the alternatives, and ends with the best solution.

Instructional video is one designed to instruct a person or group of people to perform a particular task or procedure. It's great for explaining to your training employees how something works within your company. Whiteboard animation is a good option as it will be very easy to understand and retain information, even if it is brief.